Why Stocks Could Be Ready To Rally
It's been a painful week for growth investors given significant declines in technology-oriented indexes and exchange traded funds. The NASDAQ 100 ETF (QQQ) fell over 11% from its intraday high this month to its intraday low this week, and returns were worse for software investors given the iShares Expanded Tech-Software Sector ETF (IGV) 12.5% drop from its month-to-date high to low point.
Source: Top Stocks for Tomorrow.
Many individual stocks fared worse. For example, high-flying Tesla (TSLA) lost over one-third of its value and Zoom (ZM), Wayfair (W), and Shopify (SHOP) declined by over twenty five percent.
Since many of the baskets and individual stocks that fell most were also those most extended to their 200-day moving average, it isn't surprising they took the brunt of the sell-off.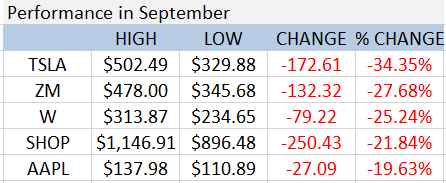 Source: Top Stocks for Tomorrow.
However, our overbought indicator is still extended with over 50% of our 1,500 stock universe trading 5% or more above its 200-day moving average.
Historically, readings above 50% have preceded significant corrections, including the one we experienced this week and ideally, a correction would normalize this reading in the 20% to 40% range. Since we're still north of 50%, it's hard to argue all the pain has been felt when it comes to individual stocks.
The market itself could be finding its footing, though. Volatility can remain elevated for weeks following a 3% one-day decline in the S&P 500, but the market usually trades higher at some point within 30-days. In my experience, picking bottoms is more art than science, so it's best to focus on ranges and be flexible. Ideally, I'd like to see a retest of this week's intraday low followed by a heavy volume reversal day for confirmation, but as I said, flexibility is key. Many leading stocks may officially bottom before the market, so selectively buying leaders could be the best approach for investors.
Overall, it's too soon to declare every stock has found its footing, but using down days to buy leaders in strong sectors and industries could be savvier than indiscriminately selling at this point. It's far easier to proactively and non-emotionally prune portfolios into strength, than weakness, so the best time to raise cash was when we recommended doing it in August, not today.
Top-rated sectors now
Weekly, we rank major sectors so members can see which baskets have alpha-friendly tailwinds. It also helps investors spot emerging positive or negative trends. For example, consumer goods — a defensive group — strengthened throughout August as technology weakened, adding conviction to thinking the market was due for a correction.
Currently, industrials, services, consumer goods, financials and technology are the best ponds to fish in large cap. The top mid-cap sectors are consumer goods, services, and basic materials, while basic materials, services, consumer goods, and industrials are best in small cap.
Because utilities and energy stocks remain weak across all market caps, it's best to focus elsewhere for stocks to buy.

Source: Top Stocks for Tomorrow.
It can also be useful to track sector strength by market cap. For instance, large-cap industrials score better than small cap industrials, and small-cap basic materials scores higher than large-cap basic materials.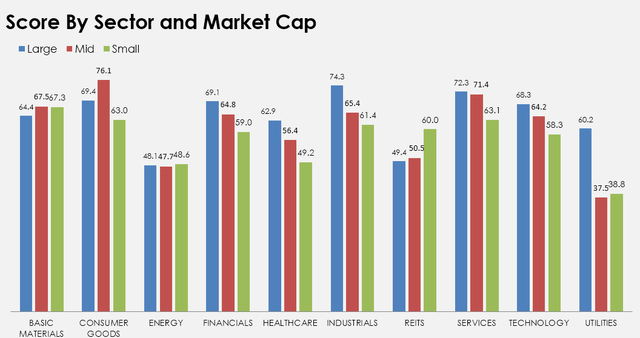 Source: Top Stocks for Tomorrow.
The strongest-scoring stocks now
Our scores provide a systematic and objective way to rank over 1,500 high-quality stocks. Weekly, we run every stock in our universe through a 7-factor gauntlet explained more here. Overall, our model assigns scores based on the following factors:
Forward earnings growth expectations
Historical trends in reporting earnings that beat Wall Street estimates
Insider buying
Short-term and long-term institutional money flow
Forward valuation relative to historical valuation
Contra-trend short interest analysis
Quarterly seasonality over the past decade
Because stock prices follow earnings over time, insiders buy for one reason; money flow reflects institutional sentiment, and seasonal patterns can rhyme, high-scoring stocks offer a solid source of new ideas.
This week, over 100 top-rated stocks were shared with members, including these 80 stocks. I've highlighted the stocks seeing the biggest increase in score for convenience.
Best Scoring
9/10/2020
4 WEEK MA
Company Name
Symbol
Sector
INDUSTRY
SCORE
SCORE
BASIC MATERIALS
Enviva Partners, LP
(EVA)
BASIC MATERIALS
LUMBER & WOOD PRODUCTION
105
107.5
The Sherwin-Williams Company
(SHW)
BASIC MATERIALS
SPECIALTY CHEMICALS
100
98.75
Cleveland-Cliffs Inc.
(CLF)
BASIC MATERIALS
STEEL
90
88.75
The Scotts Miracle-Gro Company
(SMG)
BASIC MATERIALS
AGRICULTURAL INPUTS
90
92.5
Air Products and Chemicals, Inc.
(APD)
BASIC MATERIALS
CHEMICALS
85
83.75
FMC Corporation
(FMC)
BASIC MATERIALS
AGRICULTURAL INPUTS
85
81.25
Compass Minerals International, Inc.
(CMP)
BASIC MATERIALS
OTHER INDUSTRIAL METALS & MINING
85
82.5
Ferro Corp
(FOE)
BASIC MATERIALS
SPECIALTY CHEMICALS
85
83.75
CONSUMER GOODS
Wolverine World Wide, Inc.
(WWW)
CONSUMER GOODS
FOOTWEAR & ACCESSORIES
115
108.75
Simply Good Foods
(SMPL)
CONSUMER GOODS
PACKAGED FOODS
110
108.75
Fox Factory Holdings
(FOXF)
CONSUMER GOODS
RECREATIONAL VEHICLES
105
106.25
Constellation Brands, Inc.
(STZ)
CONSUMER GOODS
BEVERAGES
100
93.75
Archer-Daniels-Midland Company
(ADM)
CONSUMER GOODS
FARM PRODUCTS
95
92.5
Bunge Limited
(BG)
CONSUMER GOODS
FARM PRODUCTS
95
87.5
Newell Brands Inc.
(NWL)
CONSUMER GOODS
HOUSEHOLD & PERSONAL PRODUCTS
95
90
The Procter & Gamble Company
(PG)
CONSUMER GOODS
HOUSEHOLD & PERSONAL PRODUCTS
95
98.75
National Beverage Corp.
(FIZZ)
CONSUMER GOODS
BEVERAGES
95
98.75
The Hain Celestial Group, Inc.
(HAIN)
CONSUMER GOODS
PACKAGED FOODS
95
91.25
FINANCIALS
Aon plc
(AON)
FINANCIALS
INSURANCE BROKERS
105
91.25
Bank of Montreal
(BMO)
FINANCIALS
BANKS-DIVERSIFIED
100
91.25
Brown & Brown, Inc.
(BRO)
FINANCIALS
INSURANCE BROKERS
100
101.25
FactSet Research Systems Inc.
(FDS)
FINANCIALS
FINANCIAL DATA & STOCK EXCHANGES
100
98.75
Marsh & McLennan Companies, Inc.
(MMC)
FINANCIALS
INSURANCE BROKERS
100
97.5
Assurant, Inc.
(AIZ)
FINANCIALS
INSURANCE-SPECIALTY
100
100
Eaton Vance Corp.
(EV)
FINANCIALS
ASSET MANAGEMENT
95
82.5
Intercontinental Exchange, Inc.
(ICE)
FINANCIALS
FINANCIAL DATA & STOCK EXCHANGES
95
98.75
Royal Bank of Canada
(RY)
FINANCIALS
BANKS-DIVERSIFIED
95
93.75
Sun Life Financial Inc.
(SLF)
FINANCIALS
INSURANCE-DIVERSIFIED
95
95
HEALTHCARE
Dr. Reddy's Laboratories Limited
(RDY)
HEALTHCARE
DRUG MANUFACTURERS
100
96.25
Medpace Holdings, Inc.
(MEDP)
HEALTHCARE
DIAGNOSTICS & RESEARCH
100
105
LeMaitre Vascular, Inc.
(LMAT)
HEALTHCARE
MEDICAL INSTRUMENTS & SUPPLIES
100
101.25
Alexion Pharmaceuticals, Inc.
(ALXN)
HEALTHCARE
BIOTECHNOLOGY
95
85
Amgen Inc.
(AMGN)
HEALTHCARE
DRUG MANUFACTURERS
95
86.25
DexCom, Inc.
(DXCM)
HEALTHCARE
DIAGNOSTICS & RESEARCH
95
97.5
Edwards Lifesciences Corporation
(EW)
HEALTHCARE
MEDICAL DEVICES
95
98.75
Merck & Co., Inc.
(MRK)
HEALTHCARE
DRUG MANUFACTURERS
95
93.75
Penumbra, Inc.
(PEN)
HEALTHCARE
MEDICAL DEVICES
95
96.25
Inspire Medical Systems, Inc.
(INSP)
HEALTHCARE
MEDICAL DEVICES
95
98.75
INDUSTRIALS
Trinity Industries, Inc.
(TRN)
INDUSTRIALS
RAILROADS
110
100
Arconic
(ARNC)
INDUSTRIALS
SPECIALTY INDUSTRIAL MACHINERY
100
96.25
BWX Technologies, Inc.
(BWXT)
INDUSTRIALS
AEROSPACE & DEFENSE
100
77.5
Emerson Electric Co.
(EMR)
INDUSTRIALS
INDUSTRIAL EQUIPMENT & COMPONENTS
100
98.75
Old Dominion Freight Line, Inc.
(ODFL)
INDUSTRIALS
TRUCKING
100
103.75
Republic Services, Inc.
(RSG)
INDUSTRIALS
WASTE MANAGEMENT
100
98.75
The Middleby Corporation
(MIDD)
INDUSTRIALS
DIVERSIFIED MACHINERY
100
101.25
Kforce Inc.
(KFRC)
INDUSTRIALS
STAFFING & EMPLOYMENT SERVICES
100
95
AMETEK, Inc.
(AME)
INDUSTRIALS
INDUSTRIAL ELECTRICAL EQUIPMENT
95
97.5
Deere & Company
(DE)
INDUSTRIALS
FARM & CONSTRUCTION MACHINERY
95
93.75
Illinois Tool Works Inc.
(ITW)
INDUSTRIALS
DIVERSIFIED MACHINERY
95
97.5
REITS
Iron Mountain Incorporated
(IRM)
REITS
REIT-SPECIALTY
90
88.75
Prologis, Inc.
(PLD)
REITS
REIT-INDUSTRIAL
85
86.25
CorePoint Lodging Inc.
(CPLG)
REITS
REIT-HOTEL & MOTEL
85
67.5
Independence Realty Trust, Inc.
(IRT)
REITS
REIT-RESIDENTIAL
85
65
Equinix, Inc. (REIT)
(EQIX)
REITS
REIT-SPECIALTY
80
81.25
Global Net Lease, Inc.
(GNL)
REITS
REIT-OFFICE
80
82.5
Monmouth Real Estate Investment Corporation
(MNR)
REITS
REIT-INDUSTRIAL
80
81.25
PennyMac Mortgage Investment Trust
(PMT)
REITS
REIT-MORTGAGE
80
80
SERVICES
Churchill Downs
(CHDN)
SERVICES
GAMBLING
110
112.5
Americas Car Mart
(CRMT)
SERVICES
AUTO & TRUCK DEALERSHIPS
105
102.5
Group 1 Automotive, Inc.
(GPI)
SERVICES
AUTO & TRUCK DEALERSHIPS
105
102.5
Equifax Inc.
(EFX)
SERVICES
CONSULTING SERVICES
100
101.25
Vail Resorts, Inc.
(MTN)
SERVICES
RESORTS & CASINOS
100
93.75
GameStop Corp.
(GME)
SERVICES
SPECIALTY RETAIL
100
100
Booz Allen Hamilton Holding Corporation
(BAH)
SERVICES
CONSULTING SERVICES
95
98.75
Brunswick Corporation
(BC)
SERVICES
LEISURE
95
96.25
CarMax, Inc.
(KMX)
SERVICES
AUTO & TRUCK DEALERSHIPS
95
97.5
Comcast Corporation
(CMCSA)
SERVICES
ENTERTAINMENT
95
98.75
TECHNOLOGY
Fortive Corp
(FTV)
TECHNOLOGY
SCIENTIFIC & TECHNICAL INSTRUMENTS
105
103.75
Black Knight, Inc.
(BKI)
TECHNOLOGY
SOFTWARE-INFRASTRUCTURE
100
103.75
Guidewire Software, Inc.
(GWRE)
TECHNOLOGY
SOFTWARE-APPLICATION
100
98.75
Open Text Corporation
(OTEX)
TECHNOLOGY
SOFTWARE-APPLICATION
100
102.5
Palo Alto Networks, Inc.
(PANW)
TECHNOLOGY
SOFTWARE-INFRASTRUCTURE
100
100
Verizon Communications Inc.
(VZ)
TECHNOLOGY
TELECOM SERVICES
100
91.25
Coupa Software Incorporated
(COUP)
TECHNOLOGY
SOFTWARE-APPLICATION
100
103.75
Fastly, Inc.
(FSLY)
TECHNOLOGY
SOFTWARE-APPLICATION
100
102.5
Gogo Inc.
(GOGO)
TECHNOLOGY
TELECOM SERVICES
100
88.75
ANSYS, Inc.
(ANSS)
TECHNOLOGY
SOFTWARE-APPLICATION
95
98.75
UTILITIES
Brookfield Infrastructure Partners L.P.
(BIP)
UTILITIES
UTILITIES-DIVERSIFIED
90
81.25
Brookfield Renewable Partners L.P.
(BEP)
UTILITIES
UTILITIES-RENEWABLE
85
88.75
CenterPoint Energy, Inc.
(CNP)
UTILITIES
UTILITIES-REGULATED GAS
85
82.5
Never miss a money-making idea. Get all the ideas we sent to members this week, plus weekly large cap, mid cap, small cap and ADR rankings. Know what sectors, industries, and stocks to buy and when to buy them. Over 400 bps of excess return in the following 52 weeks since 2017. Free trial, special introductory pricing, and you can cancel anytime. Join the conversation. Sign up for Top Stocks For Tomorrow.

Disclosure: I am/we are long IGV, TSLA, SHOP, ZM, AAPL, AMGN, DXCM, INSP, FSLY. I wrote this article myself, and it expresses my own opinions. I am not receiving compensation for it (other than from Seeking Alpha). I have no business relationship with any company whose stock is mentioned in this article.