Vanguard Mid Cap ETF: Cheap Valuations And High Quality (NYSEARCA:VO)
In this world nothing can be said to be certain, except death and taxes. – Benjamin Franklin
The Vanguard Mid Cap ETF (VO), a fund that is focused on mid-cap US stocks, has not been loved in recent years. It has had an impressive Covid-recovery, finally turning positive for the year, but remains below all-time highs made in February. Of course, this is not new for mid-cap investors. In the last three years, despite overwhelmingly positive equity markets and a risk-on sentiment, mid-caps have outperformed large caps, as measured by the Vanguard S&P 500 ETF (VOO). And by a significant amount, with a gain of 47.29% for the latter in the last 3 years to a gain of only 29.38% for the former.
Looking at the holdings of the ETF, the top 10 holdings account for only 8.1% of the portfolio, as much of the company-specific risk has been diversified away. Sector-wise, the holdings are balanced, with the top 3 sectors being Technology (21%) Financials (20.6%), and Industrials (15.3%). That gives a nice balance to the ETF in growth industries and value industries, which lets you hedge out the bet on which strategy will win out over the long term after more than a decade of growth stocks flourishing. Eventually, value investing can return, and you will have exposure to those types of companies with this holding.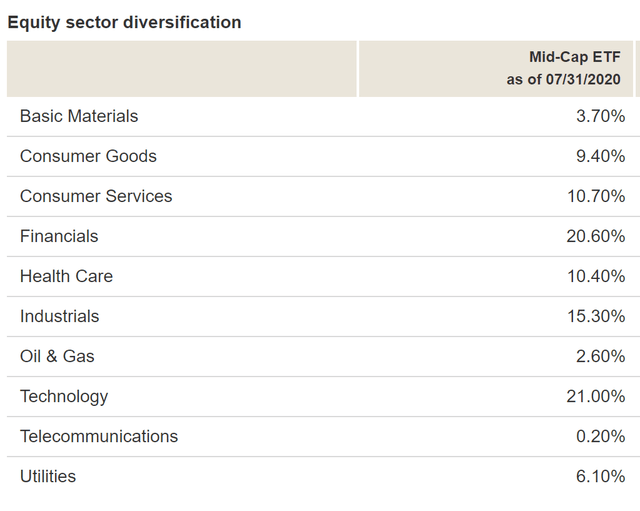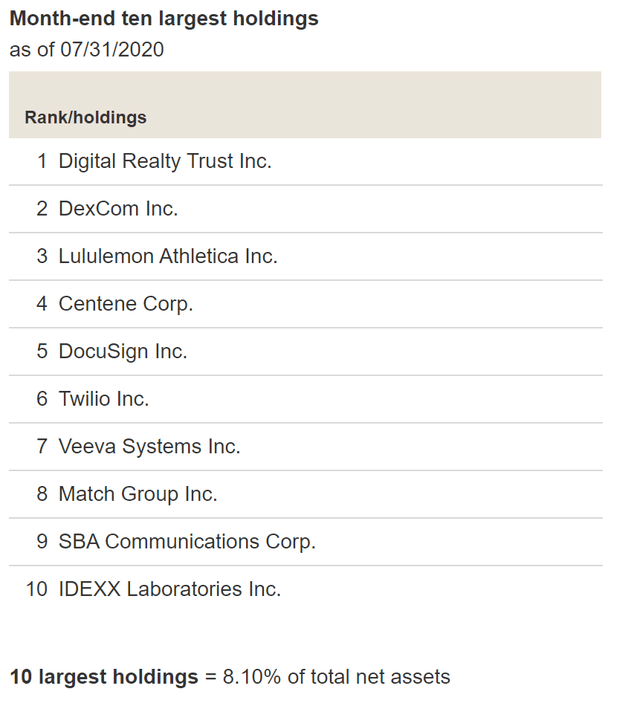 Source: Vanguard
Thoughtful Selections
While the Covid crisis has many challenges for the mid-cap space, the portfolio has some excellent picks. For example, Lululemon Athletica Inc (LULU) is in a unique position, as their demand has likely increased with more consumers looking for comfort while working from home, a trend that the athleisurewear company has been excellent at capitalizing on. DexCom Inc. (DXCM) recently smashed earnings expectations in late July, with revenues gaining 34%, and earnings up a whopping 541%. SBA Communications (SBAC) managed to keep their dividend and beat FFO by $0.45, also beating on revenues, in their recent earnings report as more internet was used during the stay at home period. These, among other mid-cap plays, are extremely interesting in the ability to pivot and capitalize in a poor economy and should rebound stronger if the economy can continue its up leg.
Potential Risks
If the economic recession is worse than thought, mid-caps may not have enough resources to weather the storm. Bankruptcies have been happening at an increased rate, especially when you go down the capitalization ladder, and could pose trouble throughout the rest of 2020 and into 2021, especially if government stimulus fails to gain traction in Congress. Many of these companies depend on a strong consumer.
The dividend yield of VO could be under pressure here, especially if there is some movement on the political side to halt buybacks and shareholder payouts. While this remains a far-off risk, it is not implausible, and should be discounted as a risk when investing in these companies. With balance sheets that are inferior to larger-cap companies, there could be more pressure to keep free cash flow for future economic pullbacks and/or business pressure, lowering the dividend yield.
This holding has 357 holdings currently, with a median market cap of $18.9 billion. While you are not going to be worried about diversification, you may suffer the effect of over-diversification with that many holdings. There have been studies done that say the proper amount of holdings for accurate diversification should be around 20-50 holdings only – at 357, the number is much higher.
General market risk remains high after a Federal Reserve (Fed) fueled rally in 2020 off the March lows. If the Fed fails to stoke inflation, or they do not provide enough stimulus, stock markets are at risk of another major pullback. We saw some of this in the price action in early September, when tech stocks spurred a significant decline.
The ETF VO, and its underlying holdings, have shown a great ability to weather a downturn in the recent months. Although valuations remain elevated, at 25.3x P/E, the earnings growth rate of 13.7% should make up for that level over time. This is a great fund to get domestic exposure, as its foreign direct exposure remains 0%, and with a relatively low turnover of 15.2%, you should be comfortable holding this ETF long term.
While highly diversified, there are enough excellent ideas within the portfolio that can push the ETF to new highs, eventually. Whether the overall economy and markets remain in their uptrend is a huge question, but if you are looking for a 10- to 20-year investment, VO fits the bill. The nimbleness of mid-caps should allow them to adjust to the new normal economy, and if there is progress on a vaccine in late 2020 or early 2021, many will flourish.
*Like this article? Don't forget to hit the Follow button above!

Subscribers told of melt-up March 31. Now what? 
Sometimes, you might not realize your biggest portfolio risks until it's too late.
That's why it's important to pay attention to the right market data, analysis, and insights on a daily basis. Being a passive investor puts you at unnecessary risk. When you stay informed on key signals and indicators, you'll take control of your financial future.
My award-winning market research gives you everything you need to know each day, so you can be ready to act when it matters most.
Click here to gain access and try the Lead-Lag Report FREE for 14 days.
Disclosure: I/we have no positions in any stocks mentioned, and no plans to initiate any positions within the next 72 hours. I wrote this article myself, and it expresses my own opinions. I am not receiving compensation for it (other than from Seeking Alpha). I have no business relationship with any company whose stock is mentioned in this article.
Additional disclosure: This writing is for informational purposes only and Lead-Lag Publishing, LLC undertakes no obligation to update this article even if the opinions expressed change. It does not constitute an offer to sell, a solicitation to buy, or a recommendation regarding any securities transaction. It also does not offer to provide advisory or other services in any jurisdiction. The information contained in this writing should not be construed as financial or investment advice on any subject matter. Lead-Lag Publishing, LLC expressly disclaims all liability in respect to actions taken based on any or all of the information on this writing.