National Retail Properties (NNN) is a triple net lease REIT as could be guessed by its stock ticker. Retail real estate has been getting a bad rap coming out of the pandemic due to store closures and the prediction for widespread retail bankruptcies. Thus far, NNN has proven naysayers wrong, delivering solid financial results. Shares yield 5.6%, which appears generous on account of the strong balance sheet and promising long term outlook. I rate shares a buy with 45% total return upside.
NNN Stands For Virus-Proof
NNN has dramatically underperformed the broader market by nearly 4,000 basis points:
While NNN has shown some financial strain from the pandemic, the results thus far are solid and I expect shares to bounce back.
NNN collected 69% of second-quarter rent and 84% of July rent. Another 21% of rent was attributable to rent deferral agreements. If NNN can collect all deferred rent, then 90% of second-quarter rent has been accounted for.
AFFO per share declined 29% year over year, but that is because AFFO typically ignores straight-line rent which includes the deferred rent mentioned above. Including deferred rent, AFFO came in at $0.66 per share, down only 4% YOY. All in all, these are solid results, albeit lagging behind industry leader Realty Income (O).
I was surprised to see that NNN has not acquired many properties this year – investment spend came in at less than 10% of 2019: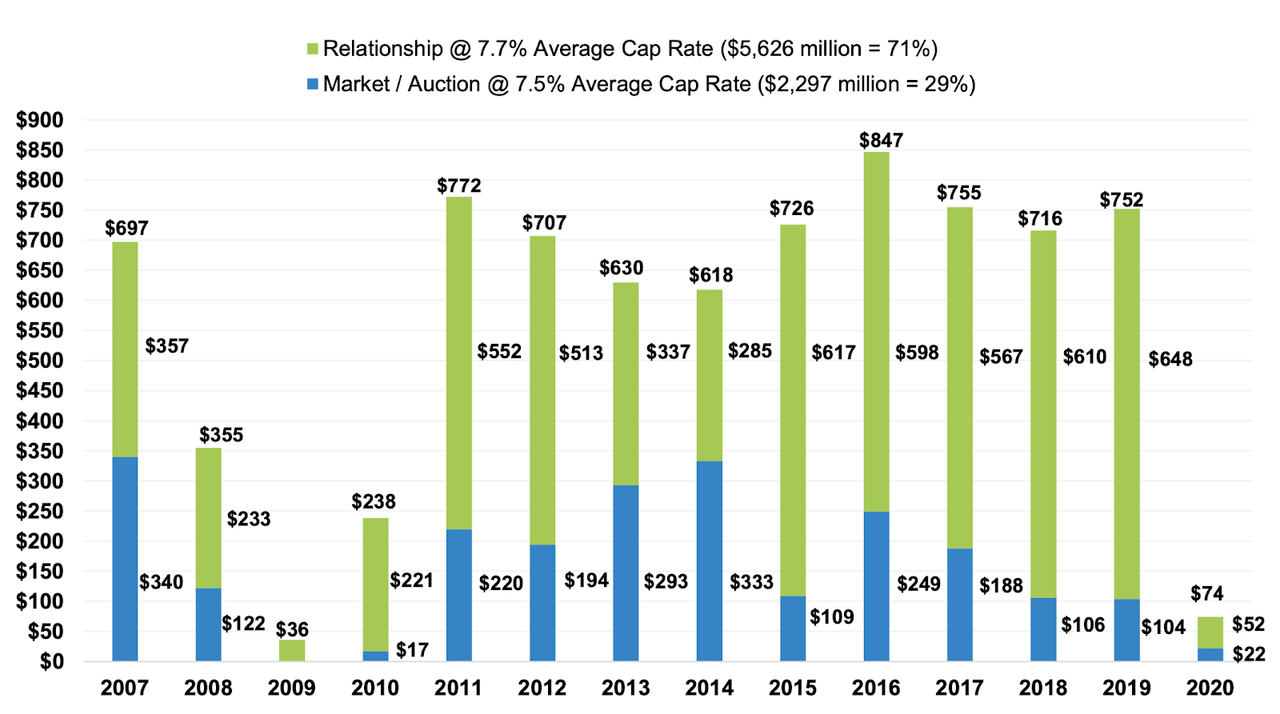 The 6.9% cap rate on acquisitions in 2020 is consistent with the 6.9% cap rate in 2019. I would have thought that demand for sale and leaseback transactions would have been at a peak during the pandemic due to the financial strain seen all around. I guess that the intuitive result sometimes varies from the actual result. NNN's strong balance sheet suggests that it could increase its investment volume if it wishes, even in spite of the low valuation of its stock price.
Fortress Balance Sheet
NNN maintains a balance sheet rated BBB+ or equivalent by the credit rating issuers. NNN has a strong liquidity position with $224.6 million in cash on hand and $900 million in availability on its bank line. NNN has minimal near term debt maturities: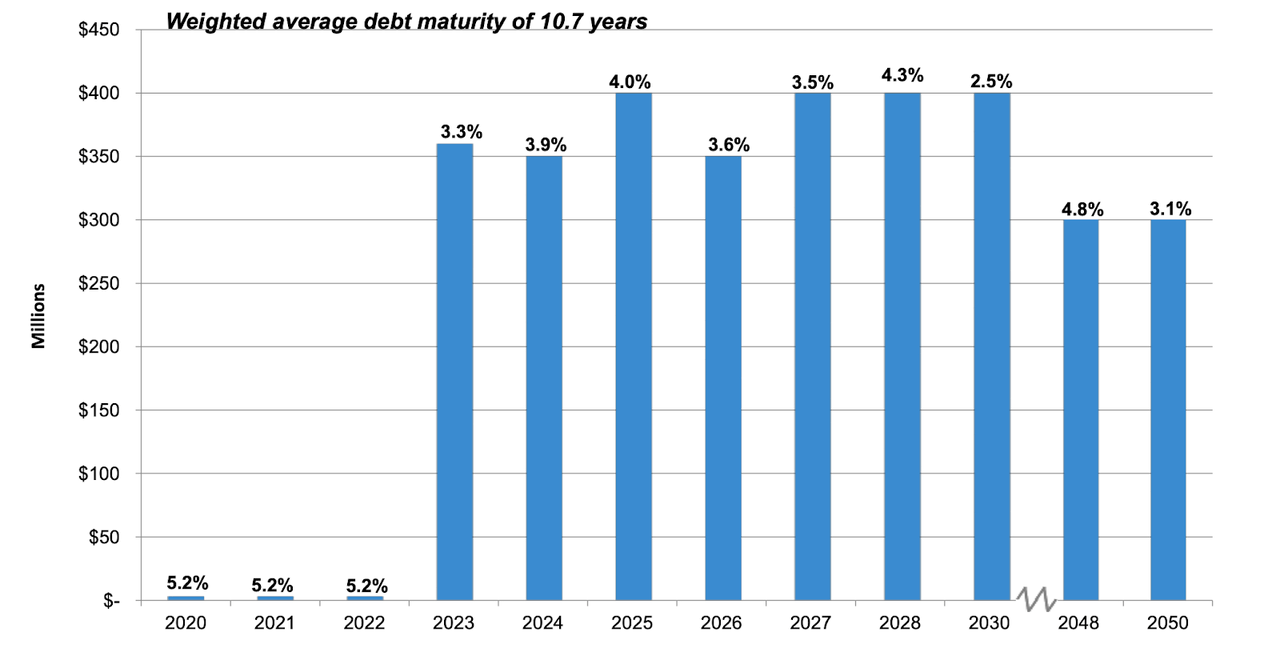 Because NNN's tenants use triplet net leases, NNN's capital expenditure requirements are minimal. As a result, the minimal near term debt maturities and free cash flow generative operating model means that NNN can opportunistically acquire additional properties, if possible. Debt to EBITDA stands around 5.5 times (including preferred stock), which is arguably conservative. NNN's balance sheet is a source of strength in these difficult times.
Valuation And Price Target
NNN trades cheaply at 13.7 times TTM FFO and at a 5.6% dividend yield. Financial results over this 12-month span are guaranteed to be lumpy, but over the long term, the net lease business model still appears to be a reliable dividend growth engine. My 12-month price target is $51.50, representing a 4% dividend yield. That price target looks justified on account of long term projected dividend growth of 2-4%, and the current low yield environment. Shares have roughly 45% total return upside to that target.
Risks
There is no guarantee that NNN can collect deferred rent. Because deferred rent totaled 21% of second-quarter rent, this risk is primarily sizable for NNN. Investors shouldn't consider deferred rent "paid" until it is officially collected by NNN. I expect protracted legal proceedings to occur between retail landlords and their tenants for quite some time.

NNN has underperformed O in terms of rent collection. I am optimistic that moving forward, rent collection should be strong as the extent of store closures is reduced. That said, there is no guarantee of that, and it is possible that individual operators in the NNN REIT space underperform the top tier.

If interest rates rise, then NNN's borrowing costs would increase. NNN would not be able to re-lease its portfolio at higher cap rates until lease expirations, but at the same time, its borrowing costs also wouldn't increase until the debt matures. NNN's strong credit profile suggests that it would see less interest expense expansion in such a scenario than junk credits.
Conclusion
NNN's 5.6% dividend yield does not seem to reflect its solid financial results in 2020. Rent collection rates have already improved sequentially, and NNN's balance sheet can cover any shortfalls if necessary. NNN hasn't been very active on the acquisition front this year, but that should change in the remainder of the year. I rate shares a buy with 45% total return upside.
Discover More High Conviction Ideas
NNN REITs are one of my 8 high conviction ideas. Subscribers to Best of Breed to get access to my top 10 holdings and full access to the Best of Breed portfolio. Exclusive Best of Breed content includes industry deep-dives, new compelling ideas, and high conviction picks.
Investing in Best of Breed has helped me rank in the top 1% of all investors on Seeking Alpha.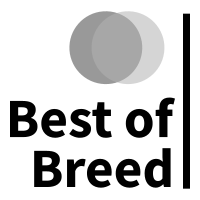 Disclosure: I am/we are long NNN, O. I wrote this article myself, and it expresses my own opinions. I am not receiving compensation for it (other than from Seeking Alpha). I have no business relationship with any company whose stock is mentioned in this article.