Aberdeen Income Credit Strategies Fund (NYSE:ACP) has a high distribution yield of 14.36%, sells at a discount to its net asset value (NAV) of 3.37%, and has managed to come back from a 50% drop in price back in March to a current total return loss on the year of only about 3%. That's a pretty attractive story.
It stacks up especially well to other funds in the senior secured loan category, where ACP has been listed for many years. Typical senior loan closed-end funds, of which we own several in our "Widow & Orphan" and "Hunker Down" Income Factory model portfolios, tend to pay lower distributions in the 7% to 10% yield range, reflecting where they operate on the credit spectrum.
While virtually all secured, syndicated corporate senior loans are non-investment grade, there is a big difference in default rates between the upper end of the non-investment-grade spectrum (double-B credits) and the lower end (single-Bs and triple-Cs). Since all the loans are secured and tend to recover substantial amounts (75-80%) of their principal when they default, it is the rate of default that differentiates the single-B and CCC cohort from the double-Bs; with double-Bs defaulting only about one-third as often as single-B and CCCs. In fact, now that rating agencies evaluate and rate the risk of default and the likelihood of recovery in the event of default as separate and distinct elements of the rating process, it is not surprising to see some well-secured loans "notched up" to investment-grade rating levels.
Here is the senior loan category as reported by CEF Connect. I have eliminated several funds that are included because they hold structured vehicles, like CLOs, that are ultimately carry loan exposure, but are completely different structures and credit risk profiles.
ACP stands out because of its high distribution (which it has maintained so far; cross your fingers!) and its relatively modest loss so far this year (in other words, it bounced back faster than most other loans funds). The higher-yielding Nuveen Credit Strategies Income Fund (NYSE:JQC) is a special case because the fund is deliberately paying out an unusually high distribution yield as part of a three-year "capital return" plan intended to make the fund more competitive in the future.
ACP's distribution yield is very attractive, both in absolute terms and in comparison to other funds in the loan sector. Investors, however, should understand what they are buying and what risks they are taking in order to earn that 14% distribution. First of all, ACP definitely swims in the deeper end of the pool in terms of credit risk. According to its latest investor fact sheet, 85% of ACP's portfolio is in single-B, triple-C and unrated credits.
In addition, the latest semi-annual report shows that bank loans only make up about 2% of the entire portfolio. The rest of it comprises bonds, which are virtually all unsecured and therefore carry credit losses about twice as much as a comparable amount of similarly rated senior loans.
In other words, there is a reason ACP carries a distribution yield significantly higher than "real" senior loan funds. Investors who opt for the extra yield probably end up earning it in terms of the additional portfolio risk they are carrying.
Comparing ACP to other high yield funds
This is not to say ACP is not an attractive investment for those willing to buy it with eyes wide open to the risks involved. To understand its relative attractiveness, we should compare it with other funds in the high yield space, rather than in the loan space, since that is where ACP's real peers seem to be.
When we do that, we see that ACP doesn't appear quite so unusual, although it still shows up as one of the higher distribution yields.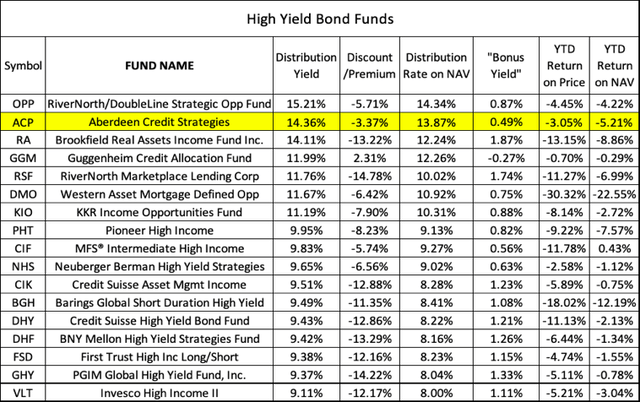 One other feature to notice about ACP is that its discount is rather low compared to other funds with high yields in both the senior-loan and high-yield categories, with an exception like Guggenheim Credit Allocation (NYSE:GGM). Having a smaller-than-typical discount means a fund has less of a cushion to absorb shocks like credit losses, and it also means it has to take more risk per dollar of return than a fund with a larger discount. That's because when you are priced at a discount to your net asset value, your investors have more assets working for them than they actually had to pay for.
ACP, for example, is getting a 14.36% return, but it is only taking a 13.87% risk in the sense that the actual assets it owns (that it bought at a discount) only have to earn 13.87% per annum in order to pay ACP's shareholders at a 14.36% rate. Compare it to Brookfield Real Assets (NYSE:RA), whose shareholders got such a large discount that the underlying assets that they paid for with their whopping 13.22% discount only have to earn at a rate of 12.24% in order to pay their shareholders 14.11%. The lower the rate your fund actually has to earn, the less credit risk it has to take. So the bigger the discount, the lower the relative risk an investor has to take to earn a given cash distribution yield.
Bottom Line
When we compare ACP to other high-yield bond funds, rather than to senior loan funds, its distribution yield is still at the high end, but is not so extreme as it seemed when categorized with the loan sector.
Investors should bear in mind that high-yield bonds, because they are unsecured, will suffer more damage overall if the economy tanks again for reasons that could stem from pandemic, economic, or political causes, or all three. So loans, being at the top of the capital structure, should offer more protection than bonds if markets go south over the next few months or in 2021.
ACP, however, pays investors well who are willing to take that risk, hopefully in a well-diversified portfolio. Managed on a global basis with teams in London, Philadelphia and Boston, ACP also does a good job of spreading the risk internationally, with 70% of it in developed countries outside the United States.
If you enjoyed reading this article but would like: 
Real-time alerts to model portfolios, changes to existing ones, and actionable investment ideas
Immediate access to all new articles and our library of articles going back ten years 
Direct dialogue and informal feedback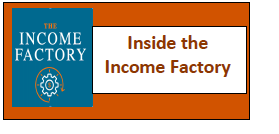 Then please check out Inside the Income Factory.  A boutique subscription service whose members get to share ideas and participate in the dialogue and decision-making that goes into our model portfolios and our search for new investment opportunities. If you want to take your Income Factory investing up a notch, please click here to learn more.
Thanks,
Steve Bavaria
Disclosure: I/we have no positions in any stocks mentioned, but may initiate a long position in ACP over the next 72 hours. I wrote this article myself, and it expresses my own opinions. I am not receiving compensation for it (other than from Seeking Alpha). I have no business relationship with any company whose stock is mentioned in this article.