Introduction
The Master Limited Partnership area of the market has seen a great deal of pain throughout 2020 as the COVID-19 pandemic inflicted immense broad-ranging damage. This has left Summit Midstream Partners (SMLP) fighting for survival, and if you are interested in their prospects to survive, I would recommend reading this article by a fellow author who provided an excellent analysis. Suffice it to say that their situation is not looking promising, and sadly for their unitholders, they could still face a lost decade before they finally get back on track even if they survive.
Executive Summary & Ratings
Since many readers are likely short on time, the table below provides a very brief executive summary and ratings for the primary criteria that were assessed. This Google Document provides a list of all my equivalent ratings as well as more information regarding my rating system. The following section provides a detailed analysis for those readers who are wishing to dig deeper into their situation.
Image Source: Author
*There are significant short and medium-term uncertainties for the broader oil and gas industry. However, in the long term, they will certainly face a decline as the world moves away from fossil fuels.
**While the oil and gas industry to which they service has high economic sensitivity, given the more stable nature of the midstream sub-industry, this was deemed to be average.
Ratings Summaries & System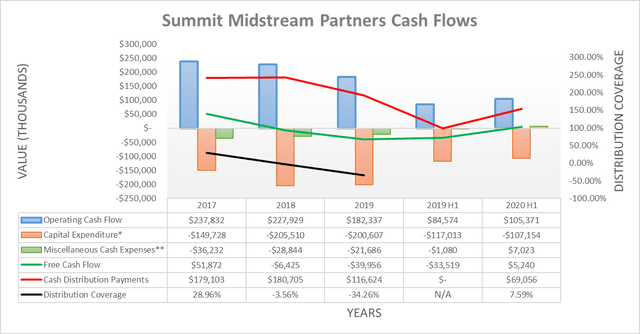 Image Source: Author
Instead of simply assessing distribution coverage through distributable cash flow, I prefer to utilize free cash flow since it provides the toughest criteria and best captures the true impact to their financial position. The main difference between the two is that the former ignores the capital expenditure that relates to growth projects, which, given the very high capital intensity of their industry, can create a material difference.
Their historical cash flow performance clearly shows their very weak distribution coverage with an average of negative 2.95% during 2017-2019. Since their distributions are now suspended, and they are fighting for their life, their distribution coverage is not the primary issue. The bigger topic right now is their ability to survive and, if possible, their ability to deleverage since the majority of their solvency issues relate to excessive leverage.
When looking towards the future, they have provided guidance for total capital expenditure during 2020 of $40m at the midpoint, as per slide four of their 2020 Citi One-on-One Midstream Conference presentation. Despite them using the word "total", this seems to still ignore their investments in equity method investees, which I believe should be included as they are alike to capital expenditure and obviously impact their ability to deleverage. Once these are included, it can be seen that their capital expenditure for 2020 was already $107m during the first half of 2020 alone, which, for the sole purpose of this analysis, will be referred to as their "real" capital expenditure.
Given this rather opaque situation, it makes judgments less than ideal, but given their history, it seems reasonable to assume that their real capital expenditure will sit around $100m in a middle of the road scenario for the long term, which represents a 50% decrease versus 2019. Once again, to stay broadly down the middle of the road, assuming their operating cash flow averages $200m seems suitable as it equals the average of 2018-2019 and the annualized equivalent from the first half of 2020. The final moving part is their miscellaneous cash expenses that are listed beneath the graph included above, the most important ones being their preferred distributions that normally total $29m per annum, along with their distributions from equity method investees that were $7m during 2019.
After combining all of these three main moving parts together, it indicates that they should have approximately $80m on average available to deleverage going forward. Admittedly, this is only an estimate, but it nonetheless provides a suitable baseline to estimate their ability to deleverage and begin rewarding unitholders.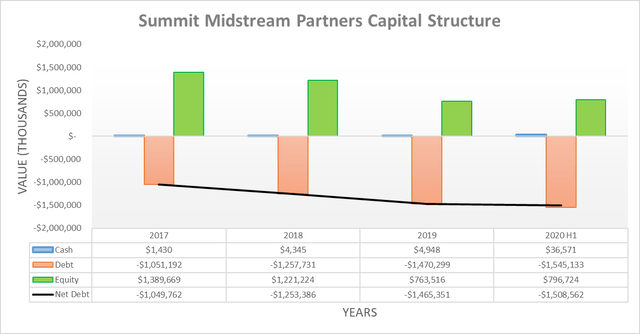 Image Source: Author
When looking at their capital structure, it can be observed that their situation has deteriorated over the years as their net debt increased, and their equity decreased simultaneously. Since the focus of this analysis is their ability to deleverage, the most important number here is their net debt of $1.509b.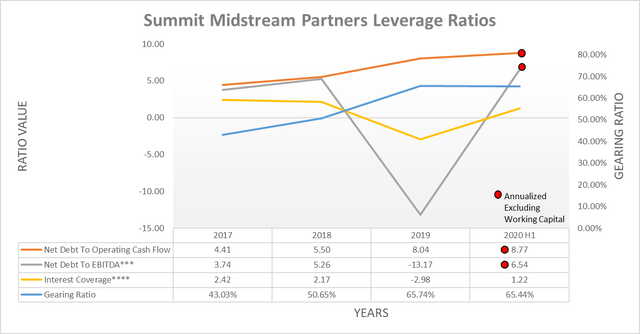 Image Source: Author
When looking at these financial metrics, it naturally is no surprise that their leverage is very high, as primarily evidenced by their net debt-to-EBITDA of 6.54 and low interest coverage of only 1.22. This means that, to sufficiently deleverage, they would have to reduce their net debt by $701m, which would bring their net debt-to-EBITDA down to the bottom range of the high territory at 3.50. If they were only to generate the $80m of free cash flow as previously discussed, this would take slightly under nine years. Needless to say, this is a very long length of time to wait, and thus, it appears that, even if they survive the short term, their prospects to ever materially reward their unitholders are very limited.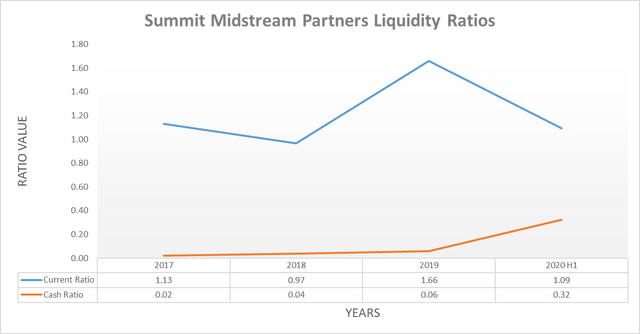 Image Source: Author
When seeing current and cash ratios of 1.09 and 0.32, respectively, it normally indicates at least adequate liquidity, but this is not the situation in this instance, given their upcoming debt maturities and very high leverage. They face $309m of debt maturities within the next two years, even if their credit facility is ignored, as the table included below displays. Since they are unlikely to produce $309m of free cash flow during the next two years, it seems highly unlikely that these can be repaid, and as the analysis from Michael Boyd highlighted, refinancing could prove quite problematic, and thus, their risk of bankruptcy is very realistic.

Image Source: Summit Midstream Partners' Q2 2020 10-Q
Conclusion
At the end of the day, they are a prime example of why analyzing financial positions still matters even for organizations that boast about their stable cash flows, as too much leverage can destroy any organization. Since they could still go either way, I believe that a neutral rating is appropriate as sitting on the fence and watching feels suitable for all but investors with the highest possible risk tolerance.
Notes: Unless specified otherwise, all figures in this article were taken from Summit Midstream Partners' Q2 2020 10-Q (previously linked), 2019 10-K and 2017 10-K SEC Filings, all calculated figures were performed by the author.
Disclosure: I/we have no positions in any stocks mentioned, and no plans to initiate any positions within the next 72 hours. I wrote this article myself, and it expresses my own opinions. I am not receiving compensation for it (other than from Seeking Alpha). I have no business relationship with any company whose stock is mentioned in this article.